Garis Batas – Perjalanan di Negeri-Negeri Asia Tengah (Borderlines)
My second published travel writing book, on journey to Central Asian countries (The "Stans"). Indonesian language.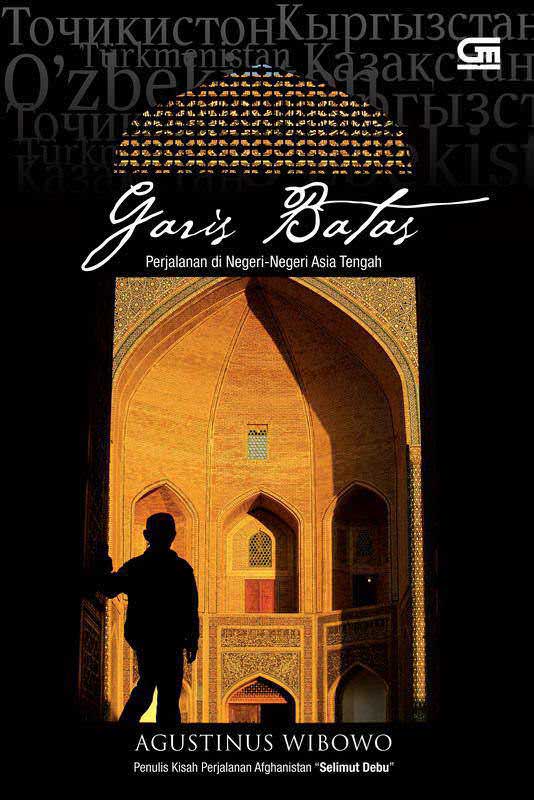 Borderlines – Journey to the Central Asian States
Everyday, Afghan villagers stare to "a foreign country" which is just a river away. They look at passing cars, without even once experiencing sitting inside the vehicles. They look at Russian-style villas, while they live in dark mud and stone houses. They look at girls in tight jeans, while their own women are illiterate and have no freedom to travel.
The country across the river seems magnificent—a magnificent fantasy. The same fantasy brings Agustinus Wibowo travel to the mysterious Central Asian states. Tajikistan. Kyrgyzstan. Kazakhstan. Uzbekistan. Turkmenistan. The "Stan brothers". This journey will not only bring you step on snowy mountains, walk accross borderless steppes, adsorbing the greatness of traditions and the glowing Silk Road civilization, or having nostalgy with Soviet Union communism symbols, but also finding out the mystery of fate of human beings who are always being separated in the boxes of borderlines.
Paperback, 528 pages
Published April 14th 2011 by Gramedia Pustaka Utama
ISBN13
9789792268843
primary language
Indonesian
original title
Garis Batas: Perjalanan di Negeri-Negeri Asia Tengah
url
http://www.gramedia.com/buku-detail/84515/Garis-Batas
————–
Garis Batas: Perjalanan ke Negeri-Negeri Asia Tengah
Penduduk desa Afghan setiap hari memandang ke "luar negeri" yang hanya selebar sungai jauhnya. Memandangi mobil-mobil melintas, tanpa pernah menikmati rasanya duduk dalam mobil. Mereka memandangi rumah-rumah cantik bak vila, sementara tinggal di dalam ruangan kumuh remang-remang yang terbuat dari batu dan lempung. Mereka memandangi gadis-gadis bercelana jins tertawa riang, sementara kaum perempuan mereka sendiri buta huruf dan tak bebas bepergian.
Negeri seberang begitu indah, namun hanya fantasi. Fantasi yang sama membawa Agustinus Wibowo bertualang ke negeri-negeri Asia Tengah yang misterius. Tajikistan. Kirgizstan. Kazakhstan. Uzbekistan. Turkmenistan. Negeri-negeri yang namanya semua berakhiran "Stan". Perjalanan ini bukan hanya mengajak Anda mendaki gunung salju, menapaki padang rumput, menyerapi kemegahan khazanah tradisi dan kemilau peradaban Jalan Sutra, ataupun bernostalgia dengan simbol-simbol komunisme Uni Soviet, tetapi juga menguak misteri tentang takdir manusia yang terpisah dalam kotak-kotak garis batas.
Petualangan Agustinus Wibowo di buku ini seakan mengajak kita untuk masuk dan melihat sendiri tempat-tempat yang selama ini tersembunyi di peta dunia. – Andy F. Noya