Jakarta Post (2013): What Writers Think About Travel Writing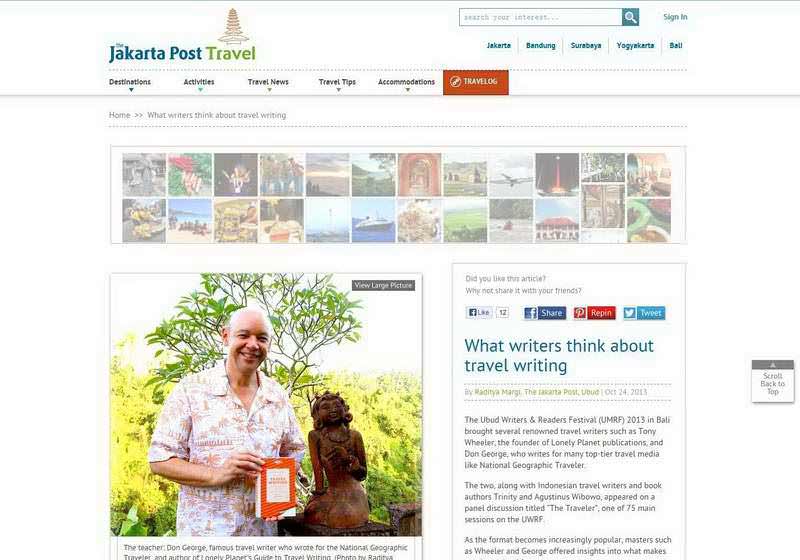 http://www.jakpost.travel/news/what-writers-think-about-travel-writing-SDjzu7QgZ6JLP83q.html
What writers think about travel writing
By Raditya Margi, The Jakarta Post, Ubud | Oct 24, 2013
The Ubud Writers & Readers Festival (UMRF) 2013 in Bali brought several renowned travel writers such as Tony Wheeler, the founder of Lonely Planet publications, and Don George, who writes for many top-tier travel media like National Geographic Traveler.
The two, along with Indonesian travel writers and book authors Trinity and Agustinus Wibowo, appeared on a panel discussion titled "The Traveler", one of 75 main sessions on the UWRF.
As the format becomes increasingly popular, masters such as Wheeler and George offered insights into what makes good travel writing.
It is more than just a whimsical description of a faraway place. Wheeler said the content must be accurate, while Agustinus said that it must always be honest non-fiction.
"Travel writing is fundamentally about a place – it's about illuminating a place," said George to The Jakarta Post Travel on the sidelines of the main panel session.
According to George, there are two types of travel writing: the guidebook style and storytelling.
"Guidebook writing is about giving central information – like where to stay and where to eat; and then there's the storytelling, which is about what I experience in the place, and what I found the heart and soul of a place to be," author of Lonely Planet's Guide to Travel Writing added.
George also echoed what Agustinus said about truth, saying that the "truth" – the experience and lesson learned from the place – was at the heart of what you were sharing with readers.
Truth is important because, in the end, what you are trying to achieve in travel writing is to enlighten the readers about the place you have visited. A good piece of travel writing will make the readers think "so that's what it is like to be there," or better – "now I feel like I want to travel there."
Read also:
UWRF 2013: More to it than books