Tempo (2013): Speaking about Poetry and Photography (Makassar International Writers Festival 2013)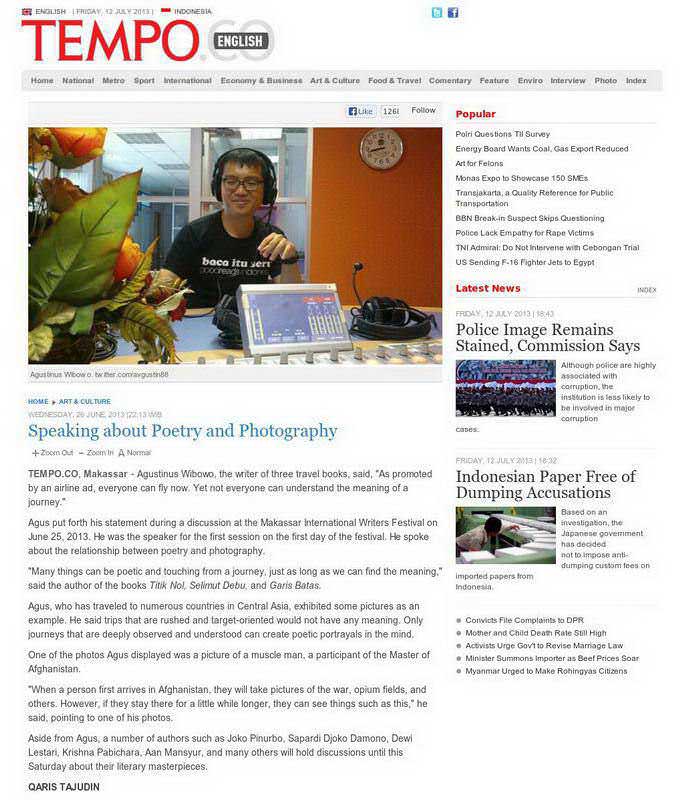 Speaking about Poetry and Photography
Wednesday, 26 June, 2013 | 22:13 WIB
TEMPO.CO, Makassar – Agustinus Wibowo, the writer of three travel books, said, "As promoted by an airline ad, everyone can fly now. Yet not everyone can understand the meaning of a journey."
Agus put forth his statement during a discussion at the Makassar International Writers Festival on June 25, 2013. He was the speaker for the first session on the first day of the festival. He spoke about the relationship between poetry and photography.
"Many things can be poetic and touching from a journey, just as long as we can find the meaning," said the author of the books Titik Nol, Selimut Debu, and Garis Batas.
Agus, who has traveled to numerous countries in Central Asia, exhibited some pictures as an example. He said trips that are rushed and target-oriented would not have any meaning. Only journeys that are deeply observed and understood can create poetic portrayals in the mind.
One of the photos Agus displayed was a picture of a muscle man, a participant of the Master of Afghanistan.
"When a person first arrives in Afghanistan, they will take pictures of the war, opium fields, and others. However, if they stay there for a little while longer, they can see things such as this," he said, pointing to one of his photos.
Aside from Agus, a number of authors such as Joko Pinurbo, Sapardi Djoko Damono, Dewi Lestari, Krishna Pabichara, Aan Mansyur, and many others will hold discussions until this Saturday about their literary masterpieces.
QARIS TAJUDIN
Indonesian version:
Membicarakan Puisi dan Fotografi
http://www.tempo.co/read/news/2013/06/25/114491133/Membicarakan-Puisi-dan-Fotografi
TEMPO.CO, Makassar -"Semua orang kini bisa terbang, seperti iklan sebuah maskapai penerbangan. Tapi, tidak semua orang bisa memaknai perjalanan," ujar Agustinus Wibowo, penulis tiga buku perjalanan dalam diskusi di Makassar International Writers Festival, 25 Juni 2013.
Agus mengisi sesi di hari pertama festival tersebut. Ia berbicara tentang hubungan antara puisi dan fotografi. "Ada banyak dari perjalanan yang bisa sangat puitik dan menyentuh, asalkan kita bisa memaknainya," ujar penulis buku Titik Nol, Selimut Debu, dan Garis Batas ini.
Agus yang mengembara ke sejumlah negara Asia Tengah mencontohkan itu dengan sejumlah foto. Menurutnya, perjalanan yang terburu-buru dan hanya ingin mengejar target tidak akan memberi makna. Hanya perjalanan yang dihayati dan dilakukan dengan tanak yang bisa memberi gambaran puitik di kepala.
Salah satu foto yang ditampilkan adalah foto seorang pria berotot, peserta Master of Afghanistan. "Orang yang baru ke Afganistan akan memotret peperangan, ladang opium, dan lain sebagainya. Tapi, kalau kita agak lama di sana, kita melihat hal seperti ini," kata dia.
Selain Agustinus, ada sejumlah sastrawan seperti Joko Pinurbo, Sapardi Djoko Damono, Dewi Lestari, Krishna Pabichara, Aan Mansyur, dan lain sebagainya. Mereka berdiskusi hingga hari Sabtu mendatang.
QARIS TAJUDIN