The Jakarta Post (2007): Yustinus Wibowo—Going around the world on a shoestring
21 June 2007
The Jakarta Post
People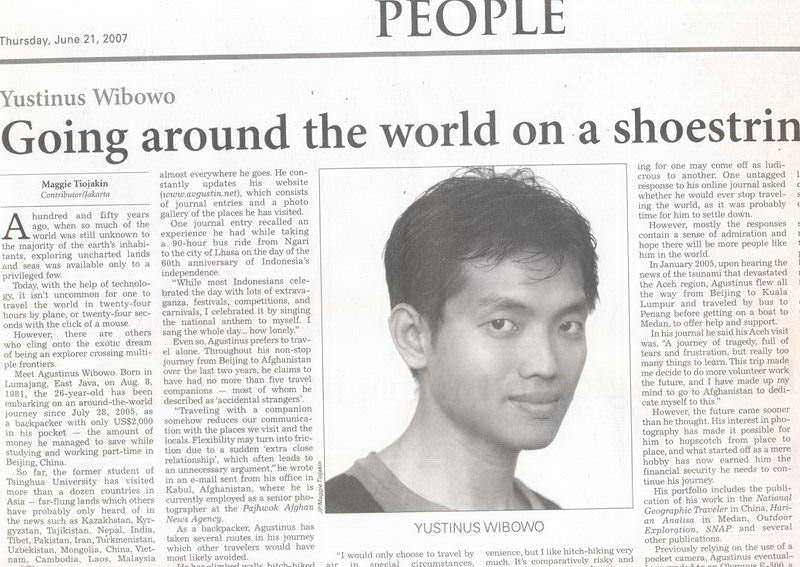 http://www.thejakartapost.com/news/2007/06/21/yustinus-wibowo-going-around-world-shoestring.html
Yustinus Wibowo
Going around the world on a shoestring
Maggie Tiojakin, Contributor, Jakarta
A hundred and fifty years ago, when so much of the world was still unknown to the majority of the earth's inhabitants, exploring uncharted lands and seas was available only to a privileged few.
Today, with the help of technology, it isn't uncommon for one to travel the world in twenty-four hours by plane, or twenty-four seconds with the click of a mouse.
However, there are others who cling onto the exotic dream of being an explorer crossing multiple frontiers.
Meet Agustinus Wibowo. Born in Lumajang, East Java, on Aug. 8, 1981, the 26-year-old has been embarking on an around-the-world journey since July 28, 2005, as a backpacker with only US$2,000 in his pocket — the amount of money he managed to save while studying and working part-time in Beijing, China.
So far, the former student of Tsinghua University has visited more than a dozen countries in Asia — far-flung lands which others have probably only heard of in the news such as Kazakhstan, Kyrgyzstan, Tajikistan, Nepal, India, Tibet, Pakistan, Iran, Turkmenistan, Uzbekistan, Mongolia, China, Vietnam, Cambodia, Laos, Malaysia and Singapore.
His correspondence is done largely through e-mail, as he seems to be able to find an internet caf' almost everywhere he goes. He constantly updates his website (www.avgustin.net), which consists of journal entries and a photo gallery of the places he has visited.
One journal entry recalled an experience he had while taking a 90-hour bus ride from Ngari to the city of Lhasa on the day of the 60th anniversary of Indonesia's independence.
"While most Indonesians celebrated the day with lots of extravaganza, festivals, competitions, and carnivals, I celebrated it by singing the national anthem to myself. I sang the whole day… how lonely."
Even so, Agustinus prefers to travel alone. Throughout his non-stop journey from Beijing to Afghanistan over the last two years, he claims to have had no more than five travel companions — most of whom he described as `accidental strangers'.
"Traveling with a companion somehow reduces our communication with the places we visit and the locals. Flexibility may turn into friction due to a sudden 'extra close relationship', which often leads to an unnecessary argument," he wrote in an e-mail sent from his office in Kabul, Afghanistan, where he is currently employed as a senior photographer at the Pajhwok Afghan News Agency.
As a backpacker, Agustinus has taken several routes in his journey which other travelers would have most likely avoided.
He has climbed walls, hitch-hiked on local trucks and trekked up and down several mountains. He prefers trains and buses to airplanes.
"I would only choose to travel by air in special circumstances, because it is usually out of my backpacking budget," he said.
"For me it is not the matter of convenience, but I like hitch-hiking very much. It's comparatively risky and sometimes needs a lot of patience, but it's flexible and challenging."
Yet, what is flexible and challenging for one may come off as ludicrous to another. One untagged response to his online journal asked whether he would ever stop traveling the world, as it was probably time for him to settle down.
However, mostly the responses contain a sense of admiration and hope there will be more people like him in the world.
In January 2005, upon hearing the news of the tsunami that devastated the Aceh region, Agustinus flew all the way from Beijing to Kuala Lumpur and traveled by bus to Penang before getting on a boat to Medan, to offer help and support.
In his journal he said his Aceh visit was, "A journey of tragedy, full of tears and frustration, but really too many things to learn. This trip made me decide to do more volunteer work the future, and I have made up my mind to go to Afghanistan to dedicate myself to this."
However, the future came sooner than he thought. His interest in photography has made it possible for him to hopscotch from place to place, and what started off as a mere hobby has now earned him the financial security he needs to continue his journey.
His portfolio includes the publication of his work in the National Geographic Traveler in China, Harian Analisa in Medan, Outdoor Exploration, SNAP and several other publications.
Previously relying on the use of a pocket camera, Agustinus eventually upgraded to an Olympus E-500, a digital SLR camera with a 8.0 million pixel capacity.
His hobby started with a series of landscape shots from a Pakistani desert and some human-interest shots of poor children on the streets of Kashmir.
Agustinus is an avid learner, his skills generally self-taught. He makes it a point to not `visit' countries, but rather `infiltrate' them by participating in their customs and befriending the locals. One of the most important keys to understanding a culture, he said, is language.
"Language is a manifestation of culture and ideas and by learning other people's languages, I get to know how they create their concept of the world," he said.
Along the way, Agustinus has learnt a smorgasbord of languages. The extra effort gains him many more friends than enemies.
"I have to thank my friends on the road, whom I usually bump into by accident," said Agustinus.
"They have led me to special personal experiences which other tourists rarely have the chance to experience."
And the dream continues, because as soon as he has saved enough money to move forward, he hopes to land himself on the enigmatic continent of Africa.
Jules Verne once said, "what one man is capable of conceiving; other men will be able to achieve."
It certainly rings true for Agustinus, who proudly holds the green passport of the Republic of Indonesia.
An intimate Q&A with Agustinus Wibowo will feature in the August edition of The Jakarta Post's Weekender.