Buzi 2 September 2014: Not As Paradise As It Seems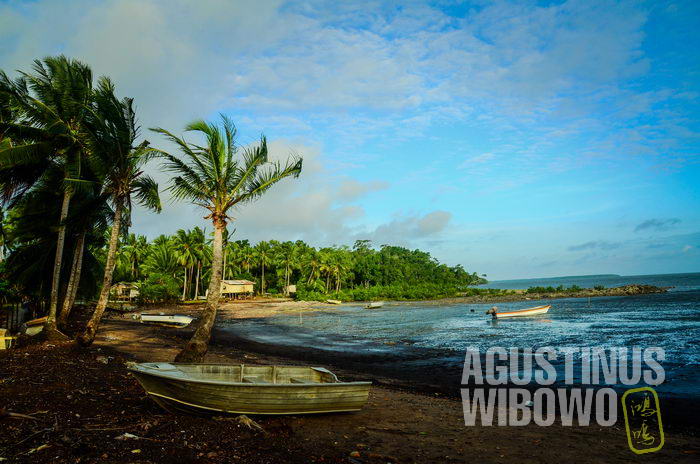 Being in such isolated place like Tais, I was totally at the mercy of my host. I could go nowhere without approval from Sisi the Tais woman who brought me here.
I had been staying in Tais for more than a week. I wanted to see more places. I wanted to go to Mari, the neighboring village four hours away by walking where Sisi used to live. But she did not allow me, saying that people there would kill me. I wanted our group to depart earlier to Daru, so we could stop in Buzi or Sigabadaru, border villages face to face with Australian islands of Boigu and Saibai. Sisi also did not allow me, saying that the villages were full of raskol (rascals).
"But Sisi, how can be raskol there? These are just little villages, everybody knows everybody," protested me.
"No, no. You markai are just foreigner, you never understand," said Sisi, "These people are jealous people. They will kill you."
Tais, she said, was different from other villages nearby. Tais is so small, the people have abundant food, the church is strong; there is no drinking habit among the people, the village is always peaceful. But I was reminded not to think other villages were just the same as Tais.
Tais for me was about life celebration. Sometimes it was too extreme, that I was thinking they were too passive and lazy and being spoilt by their fertile land. Life was terribly slow, people were never hurry for anything. There was a meeting with people from Buzi, Sigabadaru, and other villages here in Tais to discuss the future of the area. The visitors said they needed to go home soon after the meeting. The Tais villagers did not allow them, persuaded them to stay for two more days as the Tais people would go to the garden and prepare fellowship party as token of gratitude to the visitors. This also delayed my travel plan. Do you really need two days to prepare a party? They insisted they did.
Maybe it was how a life in paradise should be. No rush, no worry, no excessive work. At the contrary, I was not in the mood of paradise. I had passed the first month of my two-month Papua New Guinean visa, I was worrying that not much time left for me in this country. But what else could I do?
Tais people seemed to me very selfless compared to those visitors. In the last two days they had gathered the best products from their garden: yams, cassavas, sweet potatoes, bananas, coconuts. They loaded the harvest products to the three dinghies of the visitors. The visitors tried to load as much bananas and coconuts as possible, until their dinghies were overloaded and raised another valid question whether they could make the journey through the rough seas with such heavy load.
"Don't you have bananas and coconuts in Sigabadaru?" I asked the oversized village chairman of Sigabadaru, who was among the visitors.
"We do. But we don't have as much as in Tais," he said.
The Tais villagers walked to the waterfront to send us farewell. Mama Ruki, one old Tais lady, even danced hula-hula special for me and sang in local Na language: "Markai is going back to his place, everybody in the village waives him a good bye." There was certain sadness in the air. When our dinghy left the waterfront, some Tais villagers even cried emotionally. I had mixed feeling. A part of me was happy, that I finally continued my journey. But I already missed Tais right after our boat ventured down the Kotanya River.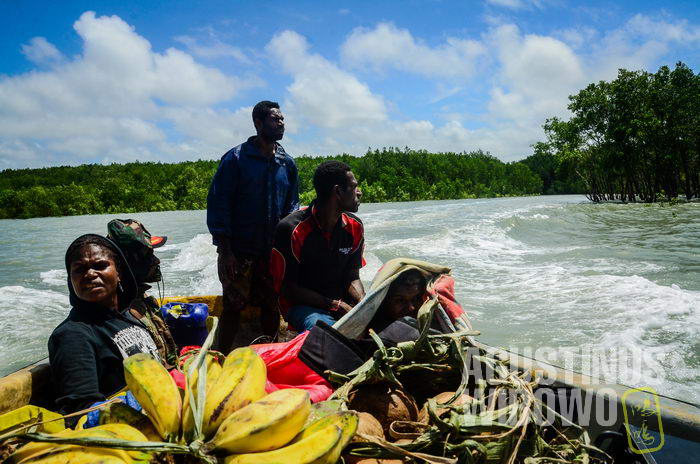 The weather was nice. It was sunny and windless. Nevertheless, after passing a small strait between the mainland and a row of three little islands, we entered the open sea and the dinghy operated by Issaiah started to bump constantly on the seawater. I was sitting alone on the front edge of the dinghy, and the bumps produced severe back pain on me. The other passengers were seasoned sea travelers, knew very well that the best place to sit was at the back side of the boat.
Our group arrived in Buzi about noon. Here we need to pick our old friend Marcella to travel together back to Daru. But Marcella went to Australia (that is Boigu, 6 kilometer away across the sea). So Sisi decided to rush to Australia to find Marcella there, while I—having no rights of crossing the international border—had to wait alone in Buzi.
Sisi arranged for me a local escort, as she did not allow me to walk alone in Buzi. Traveling around the village, I realized how life was very different here. The village of Buzi started some hundred meters behind the waterfront, with post houses scattered without clear layout along meandering maze-like narrow paths. If Tais came to my sight as a hidden paradisiacal garden, Buzi's first impression was a run-down slum. It has more than a thousand residents (Tais had about 300 people); the houses had much higher density. In Tais the post houses were made completely of bush materials, while in Buzi you see all post houses had metal sheets for its roof or walls, and the metal got rusty very quickly due to salt in the coastal air. They said they bought the metal sheets from Australia, which the villagers believed as sign of modernity. The most significant difference was that, while in Tais houses had no doors, all houses in Buzi had doors, and locked, just like in our normal world.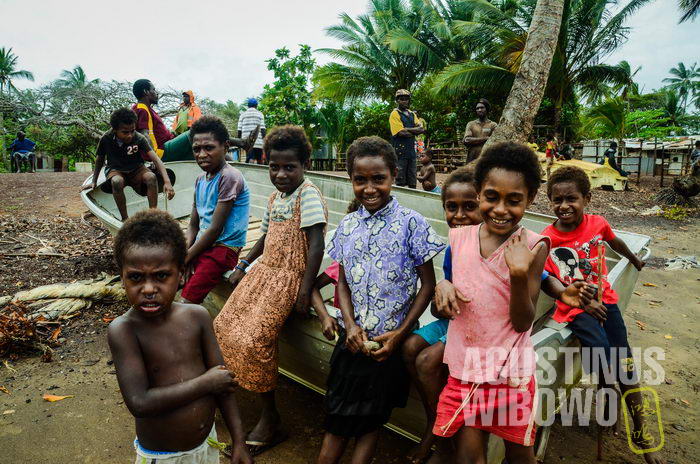 My escort Rex, Sisi's sister's husband, told me, food was very scarce in Buzi. In Tais you eat everything for free, but in Buzi you have to buy. You have to be very careful with your house, as break-and-entry is quite common. He showed me a house where an Australian researcher used to stay. The man's GPS and laptop was stolen inside his house, and until today nobody know who the thief was.
Rex believed the lack of hard work was the cause of all problems here. Buzi itself was troubled by fighting, stealing, smuggling, drunks, and illegal international travel. He said it was because of no source of income for the people, while the need of money in originally cashless economy society was now much higher. This caused tension.
Buzi is a coastal village, but the people don't go much to the sea. They are busier working with their garden. They also worked hard to hunt animals in the jungle; in the past shotguns were used but now there were few guns due to government confiscation and ammunition were hard to get. Despite of the abundant sea resources, they only catch fish enough for them to eat in one particular day, as there was no market to sell the fish. Australia is only 6 kilometers away, but to go there you need fuel for your dinghy, and fuel is not always available. Even worse, most people here don't even have fishing net. This village should be a fishing village, but the locals normally used only fish-hooks to catch fish.
It was the Indonesian illegal buyers who provide some of the villagers with fishing net, along with duty to sell the sea products to the exclusive buyers. Even though the business is illegal, they usually welcome the Indonesian buyers because the buyers bring hard cash to the village. Most of the time, they were just waiting passively for the coming of buyers from the west side.
Rex reminded me, that raskolism was a real phenomenon in any desperate society, including in these backwater areas of the country. In 2003, he was working with an Indonesian shop in Daru, selling clothes, biscuits, rice, flour, radio, etc. One day lunch time, he witnessed some young boys with bush knives attacked the shop. The boys cut the left hand of the cashier, an Indonesian man. They ran away with the cash machine. Unfortunate for them, the machine was already emptied during lunch break by the owner, so inside there was only 60 kina (US$ 20). Eventually, the Indonesian shop was closed due to too much burglary.
Violence was somehow deep-rooted in these border coastal villages. The calm and seemingly friendly atmosphere might deceive you. Some months ago, some Indonesian buyers were killed mysteriously in Bula, the closest PNG coastal village from the Indonesian border.
Later that night, Sisi also told me about a killing she witnessed in Mari, the third closest coastal village from the Indonesian border. It was a very painful story for her to recount.
The Mari boys burned the toilet of the school where Sisi used to teach, robbed the school, killed one of the students. The student, happened to be Sisi's cousin, was Gibson from Grade 7. Thursday night, Gibson disappeared in the forest between the school and the village. Gibson was found the next day, hung on a tree. His face was blued as he probably was drowned first in the river. Sisi said the Mari boys who killed Gibson were drug smugglers, and the motive of killing was presumably revenge. This was very common in the culture. Some years before the killing of Gibson, one of Sisi's uncles was also killed in Mari, with his body severely mutilated. Sisi then paid 500 kina to someone to kill the killer of his uncle.
"Why Mari is so dangerous?" I asked Sisi.
"Many people ask the same question. I also don't know why. Mari is actually a blessed place, with abundant fish. People eat and eat very much, they are huge and fat, just like Australians in Boigu. But the place is simply dangerous."
Even Tais was not as paradisiacal as I thought. In Tais I witnessed there were many husbandless young mothers, including Aprelia who was just 11 years old when she had her baby. She was Gibson's girlfriend. Aprelia's father is Issaiah our dinghy operator. Issaiah was very angry as he did not want anybody to call him 'grandpa' at his thirties. He attempted to poison the pregnant Aprelia and once while drunk he almost threw the 1-month old baby out the window of their post house (almost 2 meters high). Sisi then adopted Sadraka the baby as her son, which temporarily halted any Issaiah's attempts to kill the baby. But the Tais people always urged Sisi to take Sadraka away from the village as soon as possible, as Issaiah might do anything to harm the baby when he lost his mind.
In my eyes, these villages were simply lawless. I never saw any police or soldiers. Every village had their 'law and order' personnel, but they worked without salary and had no real legal power. The border sea was patrolled jointly by PNG and Australian forces, but they also could not do much with the rampant Indonesian illegal traders violating the border.
The Papua New Guineans often compared their country to the bordering Indonesia as an ideal totally-free democratic country compared to a scary militaristic "communist" country. (As one Buzi man described, "The Indonesian soldiers are like sand in the sea, while here we are free to do anything we want.") But as George Orwell said, "War is peace", I believe that the military and strict laws could not be totally absent in the creation of peace, no matter how paradisiacal you want your place to be.