Indonesia is the Country Focus of Singapore Writers Festival 2015
https://www.singaporewritersfestival.com/nacswf/nacswf/Country-Focus.html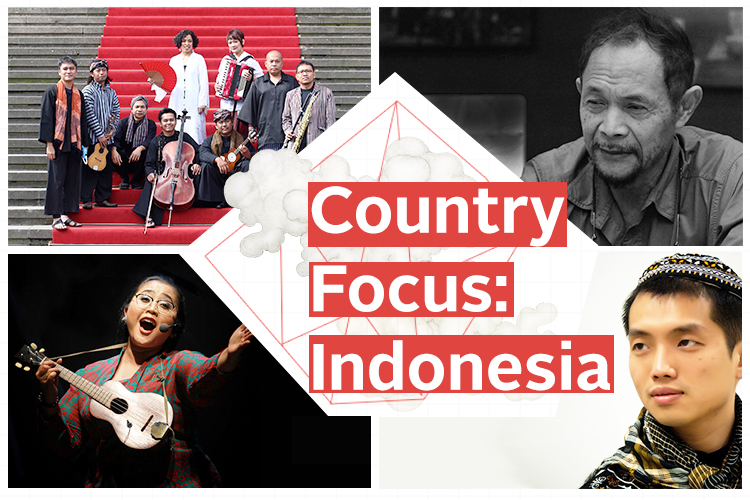 Country Focus
17,000 Islands Dreaming
A literary focus on Indonesia
Curated by The Arts House, with the programming support of Goenawan Mohamad
The Indonesian archipelago spans the Equator and South-east Asian region, an eighth of the world's circumference. A nation of 17,000-odd islands that began its journey as a modern state 70 years ago, Indonesia carries millennia of historical weight, contradictions and resolution.
What are Indonesia's aspirations for the world? How do 252 million Indonesians think and dream? Can we see continuities from ancient Srivijaya and Majapahit at work in the up-to-the-minute literature of contemporary Indonesia? If Singapore knew Indonesian literature better, would it change the way we see ourselves and our region?
We turn our focus to Indonesia this year by exploring her long traditions of the word in the same ways Indonesians celebrate it – recited to the background of theatre and movements, sung against rich tonal texture and spoken in different tongues. Dreams are, after all, facets of reality.
Lecture WHEN MEANING IS MANAGED: THE FATE OF LITERATURE
FEATURING   Goenawan Mohamad
MODERATED BY   Peter Schoppert
DATE   31 October
TIME   4pm – 5pm
VENUE   TAH, Chamber
An Indonesian poet and man of letters, Goenawan Mohamad was a fierce critic of the Suharto regime which ruled Indonesia for much of the late 20th century. He founded Tempo in Indonesia, a magazine which covers news and politics within the country, usually from a critical perspective. He writes a weekly column in Tempo entitled 'Sidelines' in which he lambasts the current political order and the inanities of the media in Indonesia. His radical and outspoken political views often occlude the quality of his poetic output, which has been widely lauded and is available in collections such as God and Unfinished Things and Once the Revolution No Longer Exists.
Performance DON QUIXOTE
FEATURING   Niniek L Karim, Landung Simatupang, Adra Karim, Aga Hanuraga
DATE   30 October
TIME   8pm – 9pm
VENUE   TAH, The Japan Foundation Play Den
This multi-layered performance combines music, visuals and theatre to bring to the stage leading Indonesian thinker and letterman, Goenawan Mohamad's poetic homage to Cervantes' story of Don Quixote de la Mancha.
Don Quixote is a collection of poems published by Goenawan, in which he rereads and recreates Cervantes's work, while adding to existing interpretations of Don Quixote from around the world.
Performed in Bahasa Indonesia with English surtitles.
Music POETRY IN MUSIC – UBIET AND KRONCONG TENGGARA
FEATURING Ubiet, Dian HP, Riza Arshad
DATE 4 November
TIME 8pm – 9.30pm
VENUE TAH, The Japan Foundation Play Den
A shared urban phenomenon which once linked Singapore musically to many coastal port towns of Indonesia, kroncong was the product of many centuries of cultural experiments in the Indonesian archipelago. It is the music of the monsoons that brought to our waters not only ships and spices, but the guitar, the accordion, the Portuguese fado, the rhythms of the Ottoman, all seducing the words of the archipelago.The popular sound of our grandparents' entertainment heard in movies, amusement parks and parties, kroncong was the Indie music scene that sprouted in the first half of the 20th century. Kroncong Tenggara revives old-time favourites with a newness that can only come from musical virtuosity and years of islandhopping research. For the Singapore Writers Festival, the group will also demonstrate the musical dynamics of Indonesian literature by singing the words of contemporary Indonesian poets.
Performance SERVANTS OF THE WORD
FEATURING   Elizabeth Inandiak, Endah Laras, Jennifer Lindsay, Landung Simatupang
DATE   5 November
TIME   8pm – 9pm
VENUE   TAH, Chamber
Servants of the Word is an experience of translation, performed by translators of Indonesian, English and French, with a Javanese musician-performer. The performance-reading takes extracts from three texts; the 19th century Javanese poetic work Serat Centhini; Elizabeth Inandiak's imaginative encounter with that text titled Centhini, Forty Nights and One of Rain, which she wrote in French; and Pariyem's Confession, written in Indonesian by Linus Suryadi and translated into the English by Jennifer Lindsay. Servants of the Word illustrates the power and fluidity of these texts, as well as their translation as sounds moving between languages. Be prepared to listen with your eyes!
THE BURDENS OF A BASTION
FEATURING Zen Hae
DATE 1 November
TIME 11.30am – 12.30pm
VENUE TAH, Kumon Blue Room
Zen Hae is considered by his peers to be a bastion of Betawi literature, a "native" sub-cultural community of Jakarta, it now finds itself being pushed out by the cosmopolitan thrust of the city. He discusses the problems of writing from marginalized tradition and its future.
BLENDING FACT WITH TRADITION
FEATURING Laksmi Pamuntjak
MODERATED BY Andrew Conroe
DATE 1 November
TIME 4pm – 5pm
VENUE TAH, Kumon Blue Room
Laksmi Pamuntjak's bestselling debut novel AMBA Sebuah Novel (The Question of Red) is about the historical violence in 1965, in which up to one million accused Communists in Indonesia were massacred. It is set against a modern take on the story of Amba and Bhisma from the Indian national epic poem The Mahabharata. Pamuntjak will discuss how this terrible chapter of Indonesian history has long been silenced and how the juxtaposing and referencing of ancient texts is so prevalent in Indonesian literature today.
FEMINISM IN INDONESIAN LITERATURE TODAY
FEATURING Ayu Utami
DATE 2 November
TIME 7pm – 8pm
VENUE TAH, Living Room
Writer and activist Ayu Utami took the literary world by storm with her now seminal novel Saman in which female sexuality was explicitly written about for the first time in Indonesia. Though some labelled it 'pornographic', her detractors failed to recognize that her work in its essence is about the freedom to express the individual's will, including women's sexuality. 17 years since its publication, Utami reflects on the state of feminist writing in Indonesian literature today.
BEING KNOWMADIC
FEATURING Agustinus Wibowo
DATE 2 November
TIME 8.30pm – 9.30pm
VENUE TAH, Living Room
As one of Indonesia's leading travel writers, Agustinus Wibowo has pioneered a new genre in Indonesian travel literature called 'knowmadic'. This allows readers to experience the writer's physical, spiritual and emotional journey as they contemplate their own conflicts and anxieties. It is all about transformation as a knowmad not only longs to change the world but to be changed by it.  Join Wibowo to learn more about how to be a knowmad.
BATIK PAINTING
FEATURING Sujak Rahman
DATE 31 October – 1 November
TIME 10am – 6pm
VENUE TAH, Porch
Join artist Sujak Rahman, one of Singapore's finest batik artists for a weekend of batik fun! Purchase a demo kit and make your own batik with Sujak as he embarks on a new work inspired by the 17,000 islands of Indonesia.