Appearance in Ubud Writers and Readers Festival 2011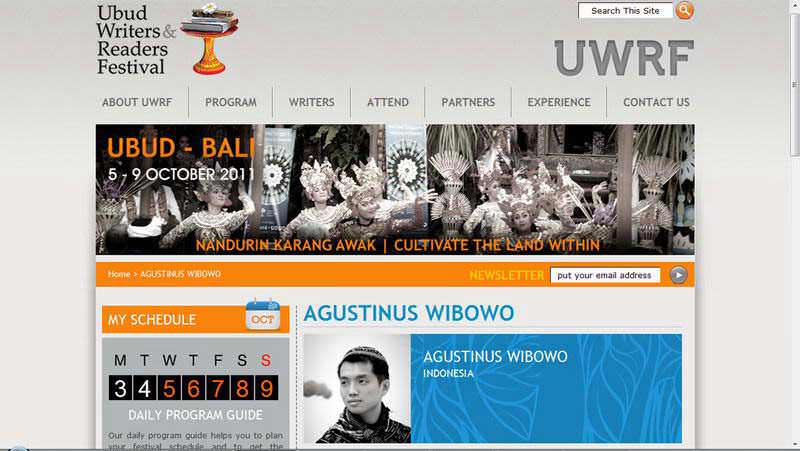 http://ubudwritersfestival.com/writer/agustinus-wibowo
Agustinus Wibowo is an Indonesian travel writer, travelled overland from Beijing to Central Asia and Middle East. He traveled extensively and settled in Afghanistan as journalist for three years. His works include Selimut Debu (A Blanket of Dust) and Garis Batas (Borderlines).
Festival Appearances
Time travel Saturday, 8 October 2011 10:45 Left Bank Lounge
What is the future of travel writing and how do travellers utilise the genre? Has it all been said and done? Brian Thacker, Fiona Caulfield, Trinity, Agustinus Wibowo
Chair: Peta Mathias
Ticketed
A blanket of dust… Saturday, 8 October 2011 13:45 Left Bank Lounge
Standing at the cutting edge of Indonesian literature, this modern day wanderer has travelled to the ends of the earth, living in Afghanistan for three years. Wander with him in this intimate session.
Agustinus Wibowo with Jamie James
Worlds, in words: making language work Saturday, 8 October 2011 16:00 Neka Museum
How language can transport us on colourful journeys to exotic lands, Agustinus Wibowo, DBC Pierre, Ida Ahdiah, Trevor Shearston
Chair: Rosemary Saye
Boundary riders Sunday, 9 October 2011 09:15 Left Bank Lounge
Boundaries can be both geographical and intellectual. Crossing borders real and imaginary, exploring new ground, writing new territory. Brave new writers for a brave new world
Agustinus Wibowo, Daniyal Mueenuddin, Meg Mundell
Chair: Jaya Savige
—————-
Looking forward to seeing you all in Ubud.
Warmest regards,
Agustinus Wibowo